Passover cover for 3 Matzot .
Photos and instructions have been emailed to us by Rachel from Florida. Rachel, thank you for the great project!
Rachel created this project using Passover set designs.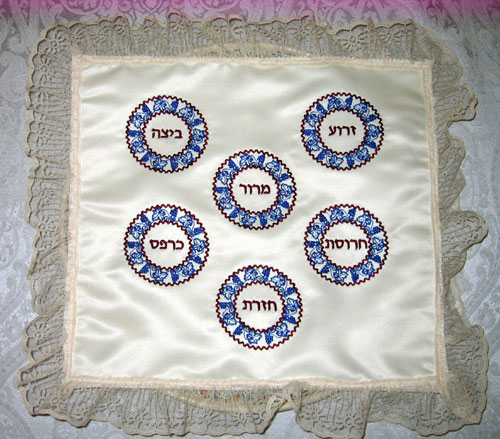 Closeup: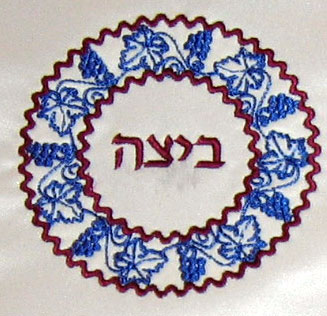 Instructions
Using software that comes with your machine, resize the 6 items on the Seder Plate to 3.3"x3.3" each
Print out the designs, cut out each one.
Matzah Cover
Cut out a Satin or Satin like fabric 13"x13" or any size you like
Place the 6 printouts in the order you traditionally follow (I did it in the Chabad order)



Marking the center top, bottom, right & left edge points of each item as a guideline (my machine & software allow me to fit the whole design together in one hoop).
Stitch out the 6 designs
Sew a zig zag stitch around the fabric and iron with a damp cloth
Back/pokets
Cut out 3 pieces of fabric (I used a heavier cotton) for the pockets 13"x13.4"
For each piece of the back, fold in 0.4" and sew a zig zag stitch at the edge to create three 13"x13" pieces of fabric
Iron with a damp cloth
Put all 3 pieces together - two pieces with the seam down and the bottom one with the seam up (see picture) as it will be the bottom of the Matzah cover
Pin the 3 pieces together with all sides fitting together perfectly and stitch around the 3 cut sides - do not stitch together the individually folded & stitched side
Pin the lace only to the bottom of the Matzah Cover
Sew with a zig zag stitch

Pin the back 3 pieces of fabric to the front with the stitched lace fitting the open pockets

Continue to pin the lace to the front and back around the remaining 3 sides
Sew around the remaining three sides while the bottom stays open to create the 3 pockets
Other ideas
1. Instead of using a regular Seder Plate, place 6 small glass dishes one on each stitched out symbol to hold the actual item for the Seder.

The three Matzot will fit in the pockets under the glass dishes.
2. Make a Matzah cover using only one piece of 13"x13" fabric for the back.
Use directions to stitch out the design, Iron with a damp cloth.
Pin the front, back & lace together and sew with a zig zag stitch.